iD14 Get Creative 10in/4out Audio Interface
Audient iD14 delivers the audio performance of a large format console in a compact and elegant desktop package. iD14 provides two Audient console mic pres, class-leading Burr Brown converter technology, console style monitor control, JFET D.I and our virtual scroll wheel technology, ScrollControl. With its versatile feature set and intuitive layout, iD14 will become the hub of your studio in no time.
Pristine Converter Technology
Brilliance on the inside enables brilliance on the outside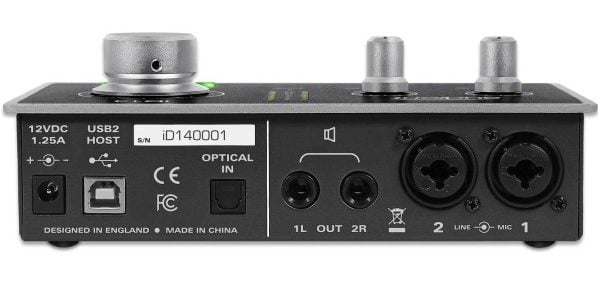 iD14 provides you with high performance AD-DA converters. Quality in the analogue stages of design comes from years of experience as analogue console designers, and when coupled with outstanding converter technology it enables you to hear audio as it's supposed to sound. The importance of converters should never be underestimated. Experience audio the Audient way.
Plug and Play
Simply plug in and be inspired
 
As well as offering you 2 channels of mic pre, iD14 has a harmonically rich JFET D.I input. Designed to replicate the input stage of a classic valve amplifier, you can plug your guitar, bass, keyboard or drum machine straight in and start recording instantly.
Features
10-in/4-out USB Audio Interface
2 x Class-A Audient Console Mic Preamplifiers
High Performance Burr Brown AD/DA Converters
iD ScrollControl Mode
1 x Discrete JFET Instrument Input
Main Speaker Output
Independent Class-AB Headphone Output
Full Monitor Control Functionality (software controlled)
ADAT Input for Expandability
Low Latency DSP Mixer
USB2.0 Bus Powered
24bit/96khz
All-Metal Enclosure
Over £500 worth of plugins and software with ARC
Specifications
MICROPHONE PREAMPLIFIER:
(measurement includes ADC signal path)
MIC GAIN: 0 to 66 dB (inc. +10 dB software boost)
LINE GAIN: -10 to 56 dB (-10dB hardwired line pad)
PHANTOM POWER: 48V ±4V @ 10mA/Channel (12VDC only)*
MIC EIN: <-127.0 dBu
CMRR: >80 dB @ 1kHz
MAXIMUM INPUT LEVEL: +12 dBu (0 dBFS digital Maximum)
INPUT IMPEDANCE (Mic): 2.8 kΩ Balanced
INPUT IMPEDANCE (Line): >8kΩ Balanced
FREQUENCY RESPONSE: ±0.1 dB 20Hz to 22kHz @ min. gain
±1.0 dB 20Hz to 22kHz @ max. gain
CROSSTALK: <-90 dBu
THD+N @ 0dBu (1kHz): 0.0025% (-92 dBu)
SNR: 96 dB un-weighted, 99 dB A-weighted
XLR Combi Female Pin 2 (Hot), Pin 3 (Cold) & Pin 1 (Shield)
1/4″ TRS Jack Tip (Hot), Ring (Cold) & Sleeve (Shield)
D.I (Channel 1):
D.I GAIN: 0 to 66 dB (inc. +10 dB software boost)
MAXIMUM INPUT LEVEL: +9 dBu (0.6% THD typical)
INPUT IMPEDANCE: >500kΩ Unbalanced
FREQUENCY RESPONSE: ±0.1 dB 20Hz to 22kHz
THD+N @ 0dBu (1kHz): <0.04% all musical 2nd and 3rd harmonics
SNR: 95 dB un-weighted, 98 dB A-weighted
1/4" JACK: TIP (Hot) & SLEEVE (Shield)
ANALOGUE TO DIGITAL CONVERTER (ADC 1 & 2):
(measured sans microphone preamplifier under AES-17)
MAXIMUM INPUT LEVEL: +12 dBu (0 dBFS digital maximum)
DIGITAL REFERENCE LEVEL: +12 dBu = 0 dBFS
FREQUENCY RESPONSE: ±0.1 dB 10Hz to Fs/2 (flat to nyquist)
CROSSTALK: -100 dBu @ 1kHz & 10kHz
THD+N @ -1dBFS (1kHz): <0.002% (-94 dB)
THD+N @ -6dBFS (1kHz): <0.0015% (-97 dB)
DYNAMIC RANGE: 113 dB un-weighted
116 dB A-weighted
DIGITAL TO ANALOGUE CONVERTER (DAC 1&2):
(measured under AES-17 at line outputs 1&2)
MAXIMUM OUTPUT LEVEL: +12 dBu (0 dBFS digital maximum)
DIGITAL REFERENCE LEVEL: +12 dBu = 0 dBFS
OUTPUT IMPEDANCE <100Ω Balanced
FREQUENCY RESPONSE: ±0.1 dB 10Hz to Fs/2 (flat to nyquist)
CROSSTALK: <-105 dBu @ 1kHz & 10kHz
THD+N @ -1dBFS (1kHz): <0.003% (-90.5 dB)
DYNAMIC RANGE: 114 dB un-weighted
117 dB A-weighted
1/4″ TRS Jack Tip (Hot), Ring (Cold) & Sleeve (Shield)
HEADPHONE OUTPUT (DAC 3&4):
(measured under AES-17 at phones output)
MAXIMUM OUTPUT LEVEL: +12 dBu
DIGITAL REFERENCE LEVEL: +12 dBu = 0 dBFS
VOLTAGE GAIN: +6 dB (optimised for loudness)
OUTPUT IMPEDANCE: <30 Ω Balanced
FREQUENCY RESPONSE: ±1.0 dB 10Hz to Fs/2 (load dependant)
CROSSTALK: -100 dBu @ 1kHz & 10kHz
THD+N @ -1dBFS (1kHz): <0.002% (-94 dB)
DYNAMIC RANGE: 108 dB un-weighted
111 dB A-weighted
MAX LEVEL INTO 30ohms: +4 dBu, 0.005% THD+N, Power: 101mW
MAX LEVEL INTO 60ohms: +5 dBu, 0.004% THD+N, Power: 64mW
MAX LEVEL INTO 600ohms: +13 dBu, 0.0025% THD+N, Power: 39mW
1/4" JACK: TIP (Left), RING (Right) & SLEEVE (Shield)
DIGITAL INPUT:
8-CHANNEL ADAT: 44.1kHz to 48kHz
4-CHANNEL ADAT: 88.2kHz to 96kHz SMUX
STEREO S/PDIF / TOSLINK 44.1kHz to 96kHz (Stereo)
USB 2.0 HIGH SPEED:
BUS POWER: 500mA @5V System Limit
425mA @5V Maximum (No 48V)
(Phantom power only available on 12VDC)*
No. of INPUT CHANNELS: 10 (2 Analogue, 8 Digital)
No. of OUTPUT CHANNELS: 4 (4 Analogue)
DSP MIXER LATENCY: ROUND TRIP (in-to-out)
44.1kHz 1.660ms
48.0kHz 1.531ms
88.2kHz 0.844ms
96.0kHz 0.771ms
DAW Roundtrip Software Monitoring Latency @ 32 Sample Buffer (in to out):
44.1 kHz 6.52ms
96.0 kHz 4.65ms
POWER SUPPLY:
12VDC Centre Positive – 1.25A (required for full 48V Phantom Power)*
* iD14 requires a lot of power for class leading converters and class-A microphone preamplfiers. We could not beat the laws of physics so an external supply is required for 48V phantom power. Your microphones will thank you when they get enough voltage!
https://youtu.be/W09kFtboqIk