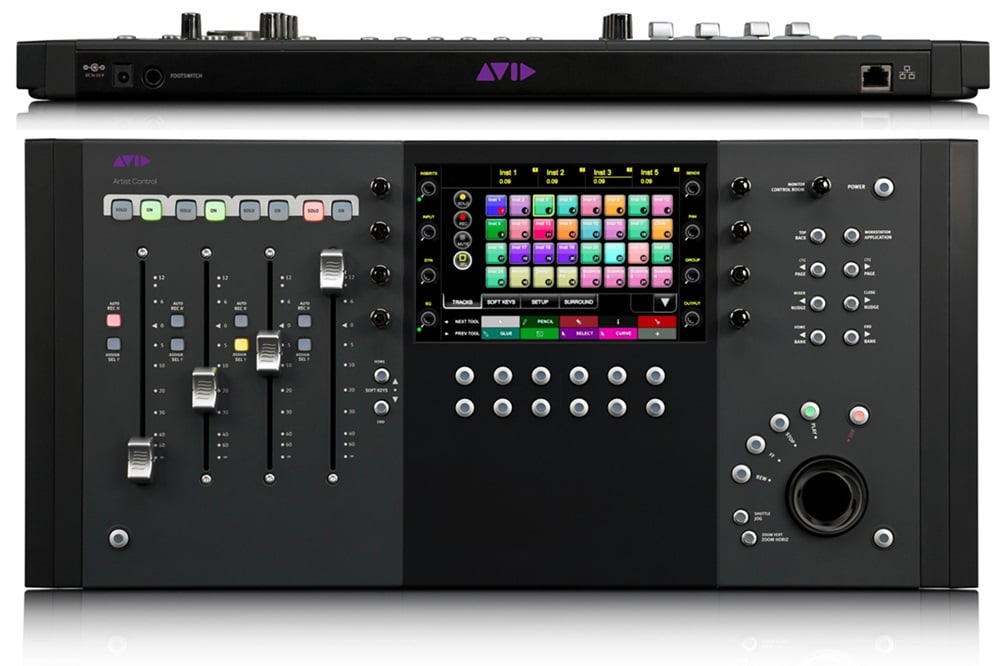 Speed up your audio and video editing and mixing with Artist Control
Take deep, hands-on control of your favorite audio and video applications with Artist Control—a compact control surface with unmatched integration and programmability that acts and feels like a physical extension of your software. Speed up and enhance your workflow with functionality far beyond what a mouse and keyboard can provide, so you can focus on being creative. Work with your favorite software.
Artist Control features EUCON (Extended User Control), a high-speed open control protocol that has been adopted by many of the world's leading software developers. With it, you can take control over almost all software functions of EUCON-enabled applications such as Pro Tools, Media Composer, Apple Logic, Apple Final Cut Pro, Steinberg Cubase, and many others. You gain high-resolution, high-speed control over almost all software functions, and a tightly connected "software as hardware" experience.
Accelerate editing and mixing.
Turn around projects faster with a portable and affordable control surface. With Artist Control, you gain hands-on command over and unmatched integration with your favorite EUCON-enabled audio and video applications. Access functions and settings using the built-in touchscreen. Program soft keys to perform time-consuming tasks at the press of a button. Plus, its functionality goes far beyond what you can do with just a mouse and keyboard alone, so you can work faster—without losing your creative focus.
Take tactile control.
Gain better control over your audio whether you're making music, sweetening soundtracks, or editing video. Record-enable tracks right from the surface. Solo, select, and mute tracks. Change automation modes. And ride the four touch-sensitive, motorized faders to bring more life to your mix.
Edit and mix with ease.
View, access, and adjust multiple facets of your audio or video project using the full-color touchscreen. See and gain instant access to 32 tracks at a time. Perform a variety of complex functions quickly using the touchscreen or surface Soft Keys. And adjust EQ, panning, dynamics, plug-ins, and more using the eight touch-sensitive knobs.
Navigate projects quickly.
With full transport controls at your fingertips, you can navigate through the largest projects with ease. Not only can you jog and shuttle through footage with the Jog Wheel, you can use it to zoom in on a project, trim a clip's head and tail, make crossfades, and more. And get dedicated buttons to play, record, stop, rewind, and fast-forward through projects.
Key features
View and access information, commands, Soft Keys, surround panning, and more using the customizable LED-backlit touchscreen
Trigger keyboard shortcuts, macro commands, and more through unlimited programmable touchscreen Soft Keys and 12 physical Soft Keys
Ethernet connectivity for high-speed, high-resolution control
4 touch-sensitive 100mm long throw motorized faders
8 touch-sensitive rotary encoders
Data wheel and transport controls with modifier keys to assign wheel function
Dedicated monitor/control room level and talkback mic controls
Footswitch jack to punch in and out of recording
Supports EUCON, HUI, and Mackie Control protocols
Controls multiple applications and workstations
Slim, compact design for easy studio integration and portability
System Requirements
Mac
Mac OS X 10.5 or higher (32- or 64-bit)
Intel processor (no PowerPC support)
1 GB RAM (2 GB or more recommended)
500 MB free hard disk space
1 available 10/100 Base-T Ethernet port*
PC
Windows 7 Home Premium, Professional, or Ultimate (32- or 64-bit)
1 GHz or faster 32-bit (x86) or 64-bit (x64) processor
1 GB RAM (32-bit) / 2 GB RAM (64-bit)
500 MB free hard disk space
1 available 10/100 Base-T Ethernet port*
What's in the box?
Artist Control controller
Artist Series CD-ROM (includes software and electronic user guides)
Ethernet crossover cable
Riser brackets (2)
Universal AC power adaptor
Quick Setup guide
Registration card