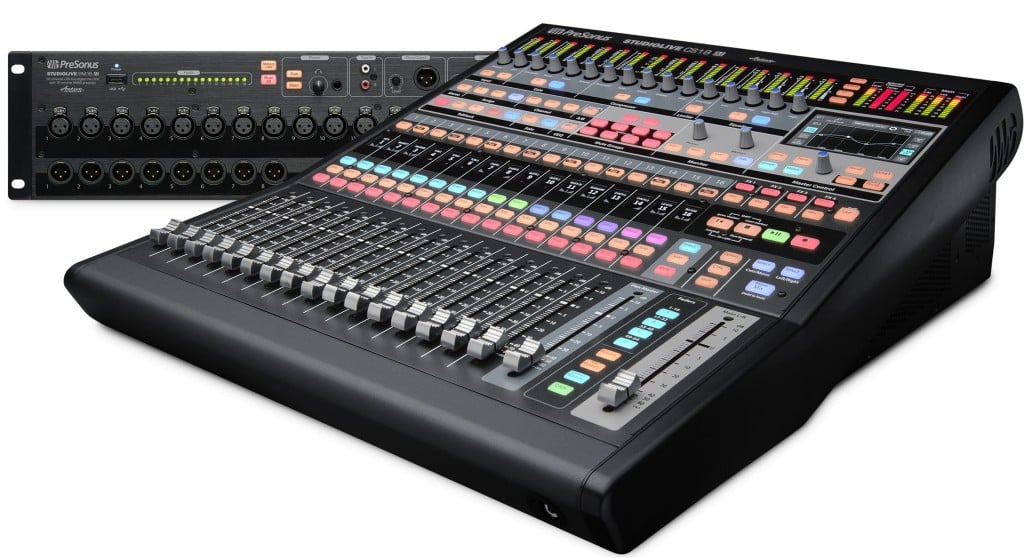 Flexible, Modular, Intelligent Digital Mixing PreSonus StudioLive AVB 16AI Mix System: 16-Input Networked Mixing System
A complete, networked, mixing and recording system.
Get rid of that heavy analog snake and take control of your mixes with the PreSonus® StudioLive® AVB 16AI Mix System, which combines a StudioLive RM16AI rack mixer, StudioLive CS18AI Ethernet/AVB control surface, and integrated control, recording, and production software. Scalable, fully recallable, networked over AVB Ethernet, and tightly integrated with included software, the StudioLive AVB 16AI Mix System puts your I/O in an onstage, rack-mount mixer with Wi-Fi and Ethernet networking, while providing an advanced control surface at front-of-house with 18 touch-sensitive, motorized faders and 4×2 I/O. And it can be expanded up to 48 inputs by cascading a second StudioLive RM-series mixer!
StudioLive RM: Versatile and flexible for live and recorded sound.
The heart of the StudioLive AVB 16AI Mix System, the PreSonus StudioLive RM16AI rack-mount Active Integration digital mixer is a versatile and flexible solution for live sound and recording. These versatile 25-bus mixers offer 16 analog inputs and an additional 16 digital inputs via FireWire or AVB for a total of 32 input channels, expandable up to 64 by cascading a second StudioLive RM-series mixer. StudioLive RM16AI mixers are flawlessly integrated with state-of-the-art software and boast an integrated 52×34 recording interface, advanced AVB networking, and multiple control options. Yet they're easy to use, with a workflow that will let you focus on mixing, without being distracted by the technology.
StudioLive CS18AI: Powerful, intuitive network control.
Equipped with 100 mm, touch-sensitive, motorized faders and AVB networking, the StudioLive CS18AI control surface provides a compact, intuitive mixing solution for the StudioLive RM16AI rack-mount digital mixers and Studio One® 3 digital audio workstation. The CS18AI connects to the network with a CAT5e or CAT6 Ethernet cable, eliminating the need for cumbersome analog or digital snakes and stage boxes, and offers a host of other useful features. It adds up to a powerful mix control system with a fast, intuitive workflow and the latest networking technology.
​Built-in AVB-networked audio.
Through the power and flexibility of AVB audio networking, the StudioLive CS18AI can not only transmit control data but can also send and receive audio channels across long distances. You get two mic/line inputs with PreSonus' remote-controllable XMAX preamps and two line inputs that you can use as sources for the talkback, 2-track playback, or other sources from front-of-house. The CS18AI's two TRS line-level returns are shared with the monitor line outputs and headphone output and can be sourced from any RM mixer output, including the solo bus, main mix, or any aux mix.
Integrated, multiplatform software for flexible control and one-click recording.
StudioLive AVB 16AI Mix Systems are tightly integrated with an entire suite of state-of-the-art software. Mix wirelessly or over a wired network using UC Surface for Mac®, Windows®, and iPad®. Musicians control their monitor mixes onstage with QMix®-AI for iPhone®/iPod® touch. Automate virtual soundchecks and record shows at up to 96 kHz with Capture™. Tune your system to the room and watch for problems in your mix with UC Surface's integrated Smaart® wizards, RTA, and spectrograph. Save mixer scenes with your Capture recordings and edit both in Studio One Artist, which you can control with the StudioLive CS18AI. StudioLive Active Integration hardware and software work together to form a cohesive ecosystem that helps you achieve your creative vision.
A versatile, networked system for touring, studios, and installs.
If we just gave you the feature-rich StudioLive RM rack-mount mixer, powerful StudioLive CS18AI control surface, and extensive software library, you'd have an amazing set of products. With AVB networking, you have an amazing integrated, expandable, modern system. Reading about it is a good start; watching our videos is a fine next step. But you really need to experience a StudioLive AVB 16AI Mix System for yourself.
UC Surface
Battle-ready control software
Designed primarily for live mixing but also well suited to the studio, free UC Surface touch-control software for Mac®, Windows®, and iPad® provides bidirectional control and editor/librarian functions for all StudioLive® AI- and RM-series Active Integration digital mixers and for Studio 192 and Studio 192 Mobile recording interfaces. UC Surface supports Windows touchscreens and networks via wired or wireless connections. It also integrates Rational Acoustics' Smaart Measurement Technology™, the industry standard for professional room tuning and measurement, including the Smaart Spectra™ RTA and time-frequency Spectrograph and easy-to-use wizards.
​
QMix®-AI
Wireless Aux-Mix Control Software for iPhone® or iPod touch®
If you have a StudioLive mixer, your new onstage personal monitoring system is probably already in your pocket. With free QMix-AI for StudioLive AI- and RM-series mixers, up to 14 musicians can simultaneously control their mixer's monitor (aux) mixes using an iPhone® or iPod® touch. And QMix-AI is incredibly easy to use. Mixing personal monitors withQMix-AI is yet another way that StudioLive mixers make your gigs easier, better, and more enjoyable.
​
Capture™
Live Recording Software
Designed exclusively for StudioLive mixers, free Capture™ multitrack recording software for Mac and Windows allows instant setup and one-click recording of up to 64 tracks at up to 96 kHz, directly from the mixer, with no configuration. Capture simplifies your live-recording environment, providing only the tools necessary to do a true virtual soundcheck and record a great performance, without placing huge demands on your CPU. And because Capture looks and operates like a classic multitrack hard-disk recorder, it's instantly familiar. Best of all, Capture uses the highly lauded, 64-bit, Studio One® audio engine, so your tracks will sound amazing!
​
Studio One® Artist
Creative Music Production Environment
Studio One is a completely modern professional environment for music recording, mixing, mastering, sharing, and collaboration. It's Internet-savvy and provides a complete solution, combining the features you really need with the ease of use you always dreamed of. Based on an elegant user interface and a content browser with powerful drag-and-drop functionality, feature-rich Studio One will let you work quickly and stay focused on your inspiration.