Native Instruments has officially released their newest software synth titled MASSIVE X. On this tutorial we will present the new features added to this important product.
Need a Pro Audio PC  to run Massive X software and all of its features at its best? Check out the MC  line of Pro Audio PCs from PCAudioLabs. 
Massive X is Native Instrument's next generation flagship synthesizer, featuring incredible sound and sonic freedom for advanced sound design purposes, truly flexible routing and extensive modulation, based on the DNA of the original Massive. Some of the new features included in Massive X are:
Oscillators: Featuring a completely new oscillator section where the user can choose from more than 170 wavetables and 10 different modes of reading them. Each one of these have their own unique sub-modes and additional controls. Dial in two phase-modulation oscillators to create extra movement into the main oscillators.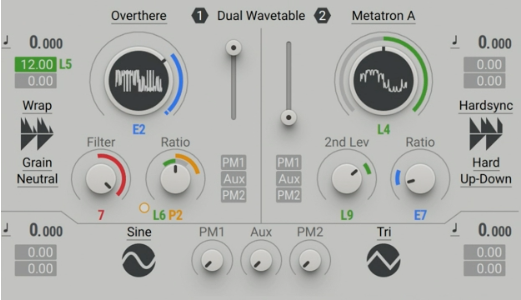 2. Routing options: Massive X lets the user connect any output to any input, obtaining impressive results. The intuitive routing setup presented lets you basically rewire the modules of MASSIVE X, which means you can bypass, feedback, and send audio any way you like. It's also possible to route modulators as audio sources to excite elements such as the comb filter.
3. Performer Section: The user can now draw precise patterns of modulation in the Performer section, and assign them to parameters for complex, evolving patches, or for controlled changes of the sound.
4. Voice Page: This page lets the user control Massive X's synth engine. The user can crossfade between unison and chord voices in order to create new harmonic blends and modulate voice parameters.
5. Envelopes and LFOs: Featuring 9 slots for envelopes and LFOs that can be added anywhere by simply dragging and dropping them, giving the user endless modulation possibilities.
6. Tracker: With this module, the user can modulate parameters depending on which note has been played and how. The user can draw curves for fine-tuning modulation per note or for playing dynamics in many ways, such as increasing reverb when playing louder, or changing the delay amount with different notes.
7. Resizable GUI: Massive X now lets the user resize its window to fit the screen.
We hope this blog on the new features included in Massive X was useful, for more questions please contact us.
Using Massive X software to produce music would be ideal with one of our professionally designed PCAudioLabs Systems due our high-performance specifications in order to work with any of the Digital Audio Workstations supported. If you would like to order one of our PCAudioLabs computers, please call us at 615-933-6775 or click this link for our website.