How will Windows 10 for Pro Audio stack up? PCAudioLabs is providing answers.
PCAudiolabs has always been ahead of the curve, and the competition, when it comes to Windows and systems which are compatible with Windows for pro audio. As PCAudioLabs was the first pro audio computer builder to offer Windows 8, we plan to be the first to support Windows 10, as well.
We are thrilled to say that PCAudioLabs/OBEDIA were featured in the Summer NAMM A3E Future of Audio Keynote on Windows 10, presented by Pete Brown of Microsoft.
Watch the video here:
PCAudioLabs has provided deep testing in Windows 10 for Pro Audio, and our findings have shown that Windows 10 is going to be quite beneficial for Pro Audio and Audio Production.  As such, we present to you some of our findings.
GOALS
The goal of these tests are to determine if the Windows WDM audio engine has reduced latency in each iteration of Windows when used in a Digital Audio Workstation (DAW). The ancillary point of these tests is to test the usability and experience of Windows 10 for pro audio usage, and the OS's efficiency of processor and RAM operation.
MC 7X SE TEST PRO AUDIO COMPUTER BY PCAUDIOLABS BUILT FOR JUSTIN LASSEN
PCAL was approached by recording Artist and Intel Music professional Justin Lassen to build a custom computer showcasing the Intel 4790k "Devil's Canyon" processor. The system will specifically feature Windows 10.  The MC 7X SE incorporates Intel Water cooling for a stable 4gHz operating build for pro audio production.  The system will be used in presentations, and so a windowed custom case was utilized to allow viewers to see the computer components.
The system was configured by PCAL for pro audio production, as per PCAL specifications, which take into account some proprietary tweaks and optimizations for Windows for pro audio production, as well as an exhaustive test process for all hardware, to ensure a smooth user experience.
PRO AUDIO TESTS PERFORMED
The tests performed were utilized using the WDM audio engine in Windows and a PreSonus Audiobox 44VSL, running Cakewalk SONAR Platinum.  SONAR was used because it is very friendly to the WDM standard, and is a well-known and very efficient DAW. The latest version of Windows 10 preview was used for test purposes.
Windows 7 vs. Windows 8 vs. Windows 10 was tested.  The goal was to discern if Windows 10 outperforms its predecessors.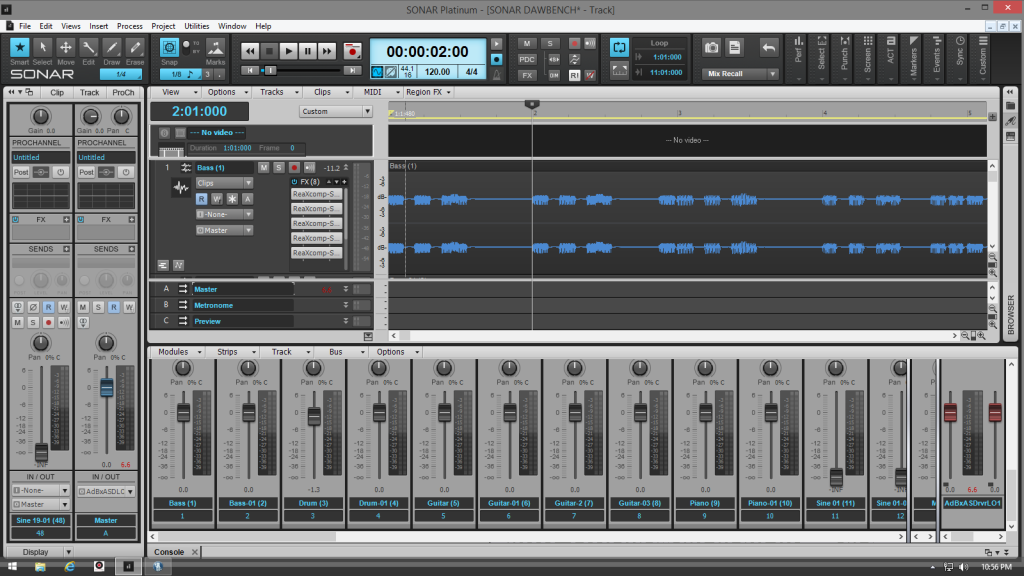 A 48 track session with individual streaming audio regions was built for the test for playback. All tests were performed at 44.1khz/16bit (CD Quality).
In Windows 7, the lowest latency numbers achieved were at a buffer size of 220 samples for a latency of 5ms.
In Windows 8, the lowest latency numbers achieved were at a buffer size of 179 samples for a latency of 4ms.
In Windows 10, the lowest latency numbers were at a buffer of 132 samples for a latency of 3ms.
We can see that the WDM latency has come down with each iteration of Windows.
PRO AUDIO PASSMARK TESTS AND WINDOWS 10 PRO AUDIO BENCHMARKS
Passmark Performance Test was used to test each Windows iteration, resulting in numbers which showed a boost in performance moving up the Windows tiers, especially on CPU and Memory marks.
CPU SCORES FOR PRO AUDIO WITH WINDOWS 10:
We see a boost going from Windows 7 to 10 in CPU benchmarks.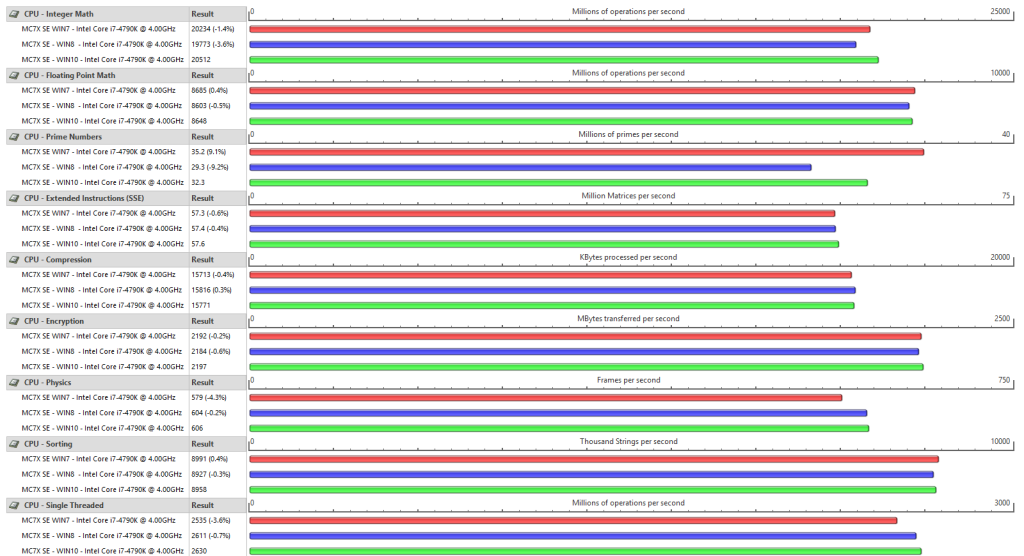 RAM SCORES  AND BENCHMARKS FOR PRO AUDIO WITH WINDOWS 10:
Memory benchmarks between Windows 8/10 are very close to each other, however, Windows 7 has a decided shortfall compared to the two newer OSes.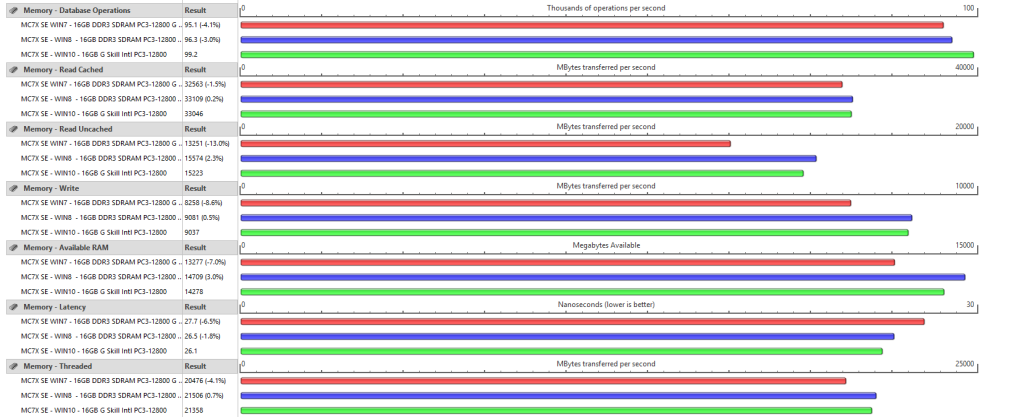 DISK SCORES AND BENCHMARKS FOR PRO AUDIO WITH WINDOWS 10:
Windows 10 soars in its disk performance, especially being that it has been installed on an SSD.


DAW COMPATIBILITY
We have used many  DAWs to test for general usability, and were found to work very well with Windows 10.  They are:
Cakewalk SONAR Platinum
Avid Pro Tools 12
PreSonus Studio One 3
Steinberg Cubase 8
Ableton Live 9
Cuckos REAPER
Acoustica Mixcraft
These DAWs were found to open/work in standard operation without issue on Windows 10.  Further testing for stress testing/DAWbench testing will be performed.
AUDIO INTERFACE
The PreSonus Audiobox 44VSL was utilized, using the latest drivers available. The interface worked flawlessly in all cases.
Conclusion
Windows 10 is proving to be a solid contender for the next best OS for digital creativity.  With reduced latency on the WDM audio engine, combined with impressive benchmarks and broad compatibility even in technical preview, the OS looks to be one of the best yet.  PCAudioLabs plans to support Windows 10 on all our pro audio computer systems.
Get New Posts Delivered Right to Your Inbox