Saving a Project in Cubase
In this blog, we'll talk about saving a project in Cubase.
This blog is part of our new series of tutorials based on the new version of Steinberg Cubase 12.
Want to learn how to use Steinberg Cubase in real time, with a professional digital audio trainer? It's faster than blogs, videos, or tutorials. Call OBEDIA for one on one training for Steinberg Cubase training and tech support, and get help with all digital audio hardware and software.
Mention this blog to get 15 bonus minutes with your signup! Call 615-933-6775 and dial 1, or visit our website to get started.
Need a Pro Audio laptop or Desktop PC to run Steinberg Cubase software and all of its features at its best?
Check out our pro audio PCs at PCAudioLabs.
Saving a Project in Cubase
Let's say you have already created a project in Cubase, and worked on it for some time.
You are now tired and want to stop…
But first, you must save your progress so it is not lost when you close the program.
You need to save your Cubase project!
How do you do this?
Let's talk about saving a project in Cubase.
Let's say you have an existing project in Cubase:
2. On the top menu bar click on: File -> Save As: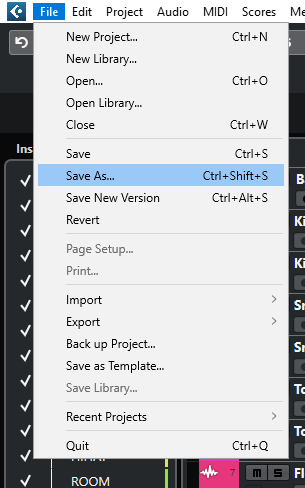 The "Save As" window will open as: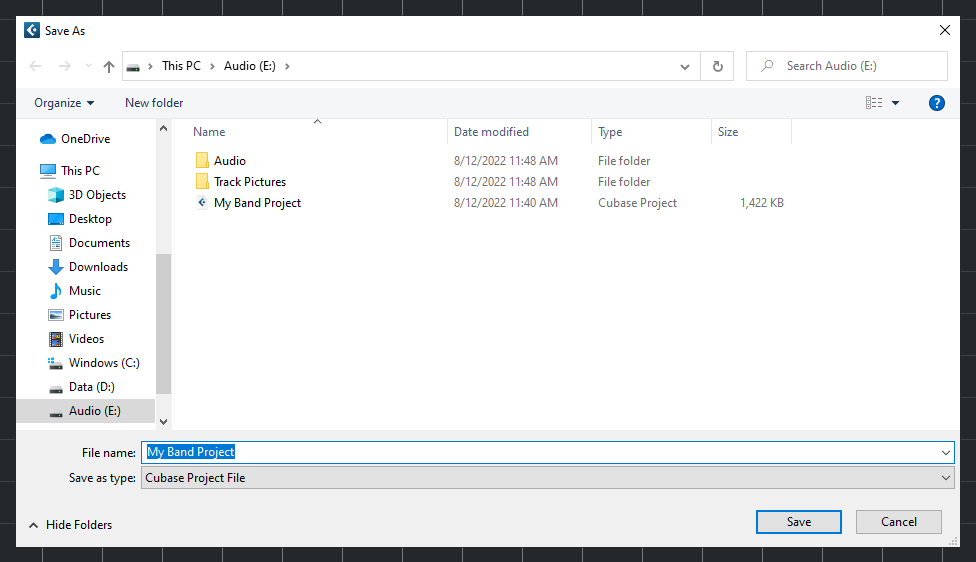 3. On the "File Name" field, type the name of the project:
For the purpose of this tutorial we will label it as "Alternative Rock Band":
4. Click on "Save":
The Project will be saved now!

And now you know everything about saving a project in Cubase.
We hope you found this tutorial on saving a Project in Cubase helpful!
Using Steinberg Cubase software to produce music would be ideal with one of our professionally designed PCAudioLabs Systems due our high-performance specifications in order to work with any of the Digital Audio Workstations supported. If you would like to order one of our PCAudioLabs computers, please call us at 615-933-6775 or click this link for our website.
Get New Posts Delivered Right to Your Inbox