Saving CPU Resources with Track Freeze in Pro Tools
This blog is part of our new series of tutorials based on the features included in Avid Pro Tools. In this tutorial we will talk about Saving CPU Resources with Track Freeze in Pro Tools.
Want to learn how to use Avid Pro Tools in real time, with a professional digital audio trainer? It's faster than blogs, videos, or tutorials. Call OBEDIA for one on one training for Avid Pro Tools and all digital audio hardware and software. Mention this blog to get 15 bonus minutes with your signup! Call 615-933-6775 and dial 1, or visit our website to get started.
Need a Pro Audio laptop or Desktop PC to run Avid Pro Tools software and all of its features at its best?
Check out our pro audio PCs at PCAudioLabs.
Track Freeze in Pro Tools
Pro Tools has several ways to help you save CPU resources and render audio processing in order to share sessions or audio files.
Track Freeze is a very useful feature that lets us save CPU resources by rendering "on the back" all the processing applied to a track so that our CPU does not need to process it in real time.
Once tracks have been "Frozen", the processing applied cannot be modified, unless you decide to unfreeze them.
Once tracks are frozen, you can share your Pro Tools sessions with other producers that might not have the same plugins that you do, letting them listen to exactly the same content you have in your session.
This will help a lot in making session sharing a smoother process.
Let's give it a shot!
1. Create or open a Pro Tools session:
For the purpose of out tutorial, we have a session with a single audio file and several plugins.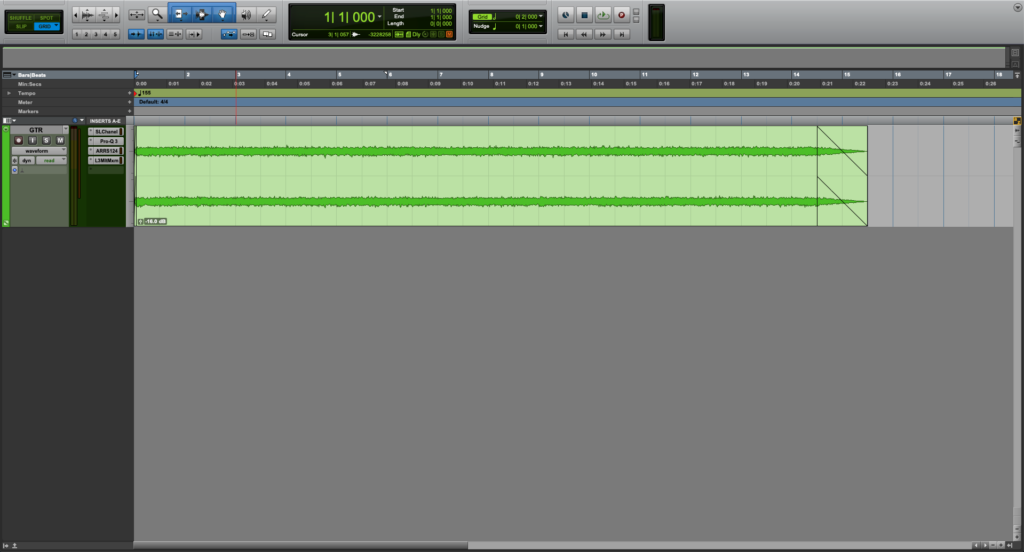 From the mix window we can see, how all of these plugins add up to 3578 samples of delay:
2. Locate the track name area on the Edit Window: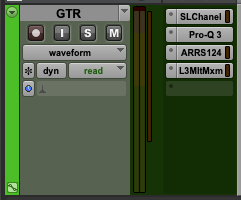 3. Right click on the track name and the following options will appear: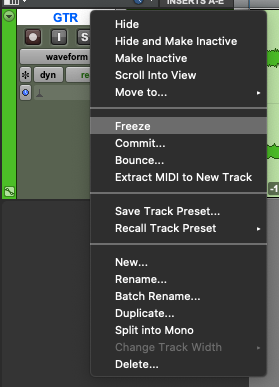 4. Click on "Freeze" and the track will start the internal rendering process as:
Keep in mind, this rendered file you will not find in your Audio Files folder, therefore it is not a file you can technically "share". Think about it as a rendered file in RAM.
Once it finishes, you will see the Audio Clip and inserts list greyed out as:

If you press play, the audio will playback just as if the plugins were happening in real time, but the reality is that their effects have been rendered to the frozen track.
If we switch to the Mix Window, we can see there is no more delay on the track, since the processing was rendered to it:

You could technically share this Pro Tools session with another Pro Tools owner and they should be able to listen to the effect of the frozen track.
However, if they decide to unfreeze the track, and they don't have your plugins, the audio will not sound the same.
5. You can unfreeze the track by right clicking on the name and selecting "Unfreeze":
The track will go back to its original state as:

And that is how you use Track Freeze in Pro Tools. We hope you found this tutorial on Saving CPU Resources with Track Freeze in Pro Tools helpful!
Using Avid Pro Tools software to produce music would be ideal with one of our professionally designed PCAudioLabs Systems due our high-performance specifications in order to work with any of the Digital Audio Workstations supported. If you would like to order one of our PCAudioLabs computers, please call us at 615-933-6775 or click this link for our website.
Get New Posts Delivered Right to Your Inbox