A Comparison of Storage Mediums for Sample-Based Plugin Load Times in Pro Audio Applications
By Brian Lorelle, CTO, OBEDIA PCAudioLabs
January 15th, 2019
Introduction
The goal of this study is to compare various storage mediums and their ability to load sample-based materials for audio production.
This study will approach this practice from the standpoint of a professional music composer or producer. Most people in this position are in need of the ability to load large numbers of sample-based instruments quickly and efficiently from inside their Digital Audio Workstation (DAW). Decreased load times lead to less time spent searching for sounds, and more time being creative. This time gained leads to money saved, as work can progress more quickly.
Introduction to Intel Optane
In 2017, Intel began selling SSDs under a new brand name, Optane, that were built on a fundamentally different memory media than other commercially available drives. Intel's new media, dubbed 3D XPoint, promised lower latency and higher real-world performance than the NAND media being used in other manufacturers' SSDs. It also offered lifetime endurance ratings well beyond anything else on the market. (For more on what's different about Optane SSDs and the underlying 3D XPoint technology, see intel.com/optane.)
Over the past year and a half, the Optane product family has grown to include capacities from 58GB to 1.5TB in a variety of form factors. As the lineup expanded, especially at higher capacity points, it became important to understand what benefits, if any, the new technology might offer to audio production professionals. PCAudioLabs takes pride in offering its customers the best solutions drawing from the latest and greatest components, and storage is a critical piece of that. What follows is a summary of our benchmarking tests where we put Optane against other leading storage devices, including methodology and results.
The use-case scenario
Many composers and music producers use large sample libraries to load and play various sample-based sounds from playback software in DAWs. The most common playback software is Native Instruments Kontakt, and East West PLAY. These playback applications allow for the loading and playback of large sample-based sound libraries. These libraries are typically comprised of sampled sounds of instruments of various kinds. These sampled sounds are typically sampled with various impulse responses, tunings, articulations, and other factors, each of which can greatly increase the size of the sample being loaded.
Samples can vary in size from only a few megabytes to many gigabytes.
Composers use Digital Audio Workstation software to load and playback  these samples using VST (Virtual Studio Technology) plugins. These plugins allow for the user to interface with the sampled sounds. Common DAWs include Steinberg Cubase (used for this study), Ableton Live, PreSonus Studio One, Magix Acid Pro, Avid Pro Tools, and others.
Most music composers prefer to create templates which "auto load" their general go-to sample libraries and sounds, to allow them to preload what they need when entering a scoring session. These autoloads are generally comprised of many instruments, sometimes in the many thousands, depending on the artist's desired sounds and instruments. As a result, these auto-loads can take upwards of an hour to load, depending on the storage medium that they are loading from.
Artists also prefer to quickly load and audition new sounds when searching for a new sound in a library. This hunt for a new sound can be tedious if the load time of a patch (a collection of sounds and articulations) takes many seconds or minutes.
As a result, any deduction of time spent loading these sounds, patches, and presets and autoloads is a welcome respite from the time spent loading, instead of creating.
Many composers and digital creatives currently store the majority of their sample libraries on mechanical drives, due to their size and relative low cost. Unfortunately, many are also sacrificing time by using these slower storage mediums, as these drives can have a nearly 100% increase in load times over solid state drives.
The PCAudioLabs Rok Box Pro Audio PC Test System
For this study, we will  be utilizing a PCAudioLabs Rok Box MC X pro audio PC.
PCAudioLabs Rok Box MC X Optane Edition Specifications: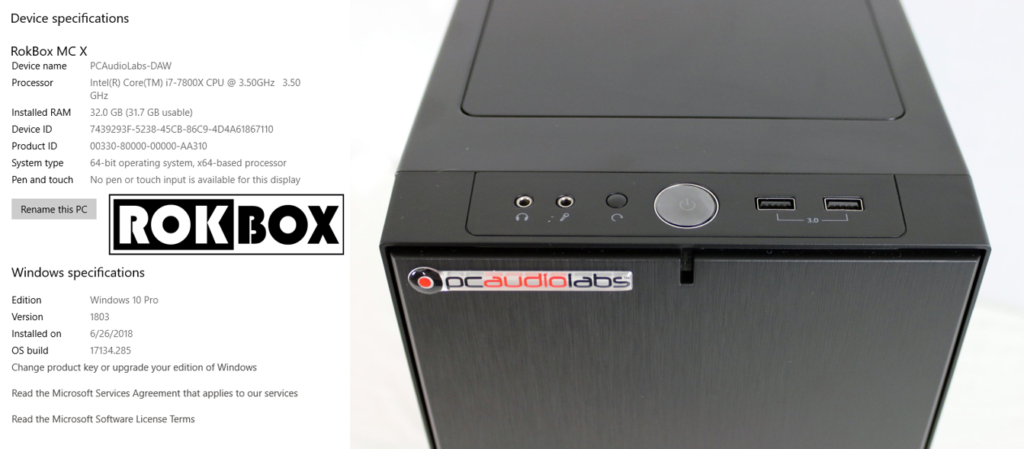 Intel Core i7 7800X CPU, 4.2GHz

Closed-loop Corsair H50 water cooler

ASUS X299 Prime-A motherboard

32GB G.skill ripjaws memory, dual-channel 2666mhz

Operating System: Windows 10 Pro, build 1803

Primary Operating System Drive: 2x Intel Optane 800P  m.2 in RAID 0 configuration
CPU-Z Specifications: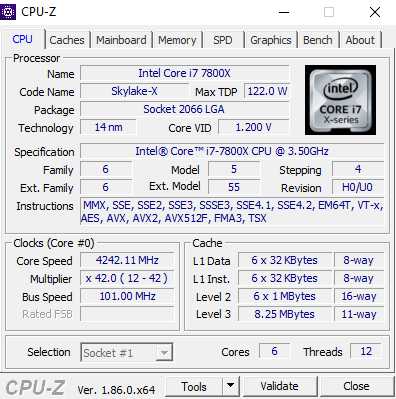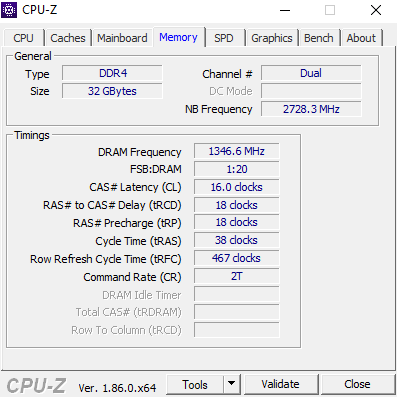 Storage Mediums and Test Hardware:
Drive
Intel® Optane™ 905P
2x Intel® Optane™ 800P
4x Intel® Optane™ 800P
Western Digital Black m.2
Samsung 860 Pro

SSD

Toshiba 7200RPM HDD
Capacity
960GB
118GB
118GB
512GB
512GB
2TB
Form Factor
HHHL
m.2
m.2
m.2
SATA
3.5"
Interface
PCIe
PCIe
PCIe
PCIe
SATA
SATA
Intel Optane 905P 1.5TB PCIe NVMe SSD

Dual Intel Optane m.2 SSD RAID 0 Configuration

4 Intel Optane 800p m.2 in RAID 0 Configuration, mounted in an ASUS m.2×16 PCIe card

Western Digital Black m.2 SSD

Samsung 860 Pro SATA SSD (Not used for Kontakt Tests due to unavailability)

Toshiba 7200 RPM HDD (This is the drive on which East West samples were originally delivered)
Test Software:
East West PLAY and Composer's Cloud Library, Utilizing EW Hollywood Strings Gold, EW Gold Bosendorfer, EW Goliath, EW Stormdrum 2 and 3, and EW Hollywood Orchestra sample libraries.
Steinberg Cubase Pro 9.5 Digital Audio Workstation

Steinberg HALion Sample-Based Virtual Instrument

Native Instruments Kontakt Version 6.0.2 and Factory Library v1.3
CrystalDiskMarkTests:
We ran a CrystalDiskMark test on each of these test drives in order to gauge their overall abilities with respect to read and write operations.
Intel 905P:
Optane RAID (2x Optane 800p m.2):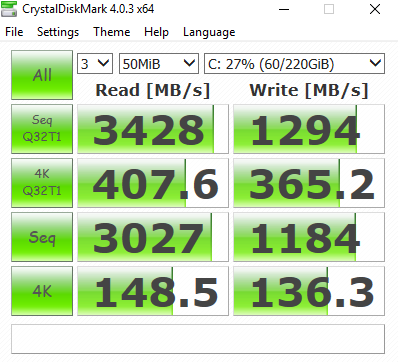 Optane RAID (4x Optane 800p m.2):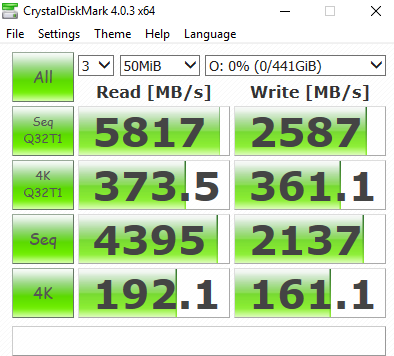 Samsung 860 Pro: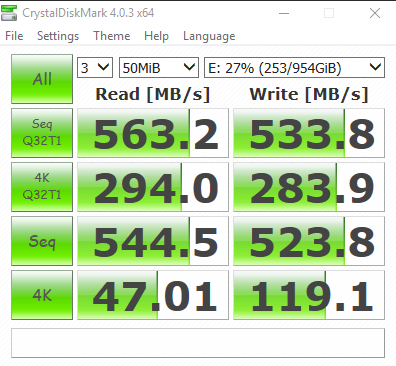 Western Digital Black m.2: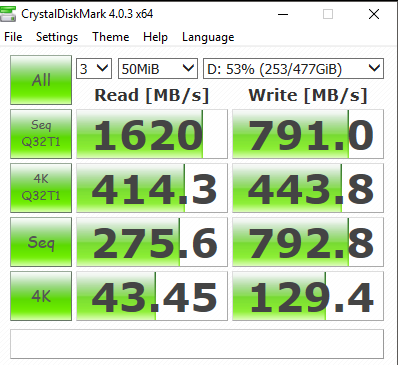 Toshiba Mechanical HDD: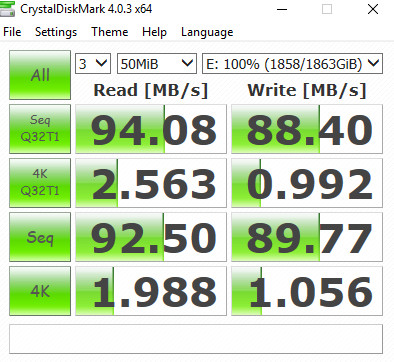 Test Methodology And Process
Using Steinberg Cubase, we will load East West, Native Instruments, and Steinberg sound libraries from various storage mediums,logging the time it takes to load those samples from each medium using a stopwatch.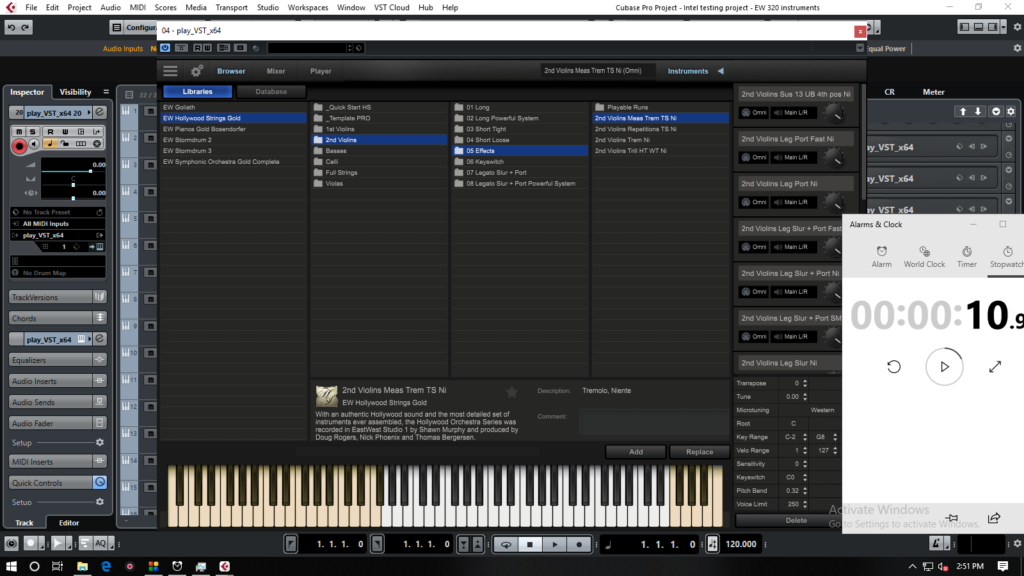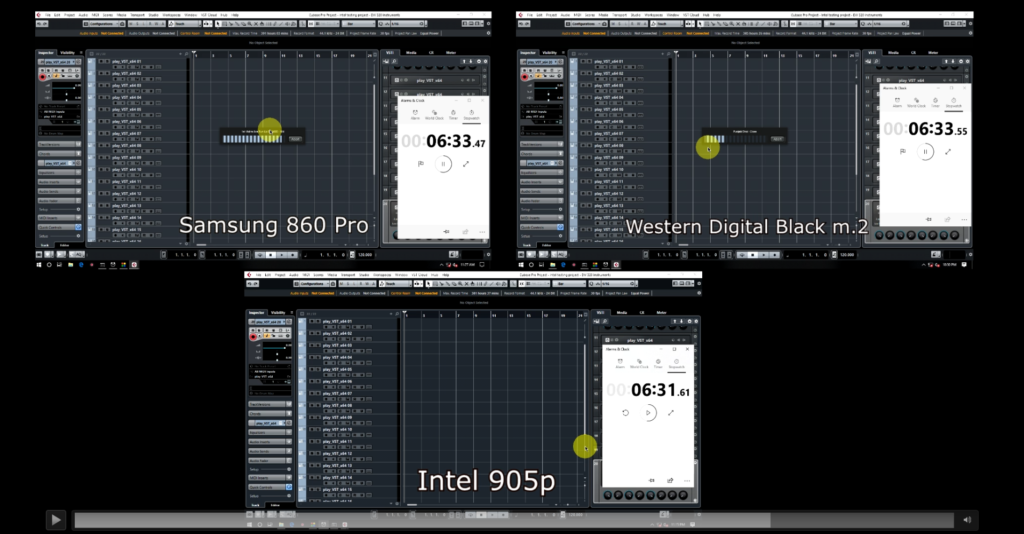 We are looking for the least amount of load time possible in a use-case scenario in which we use many different patches loaded into Cubase test sessions. As most musicians will use many different sound libraries, we will load many different libraries and sounds and patches into our test sessions to simulate the workflow of a composer or artist.
We created a autoload session for various testing purposes:
1 autoload session uses 320 East West instruments loaded into the EW PLAY software. This comprises around 91GB of data.

1 autoload session uses 320 Steinberg HALion instruments, 7GB of data.

1 autoload session uses 384 Native Instruments Kontakt instruments from the NI Kontakt factory library, an estimated 50GB worth of data.

We will also test with single patch loads from EW PLAY and NI Kontakt to test the single patch load times.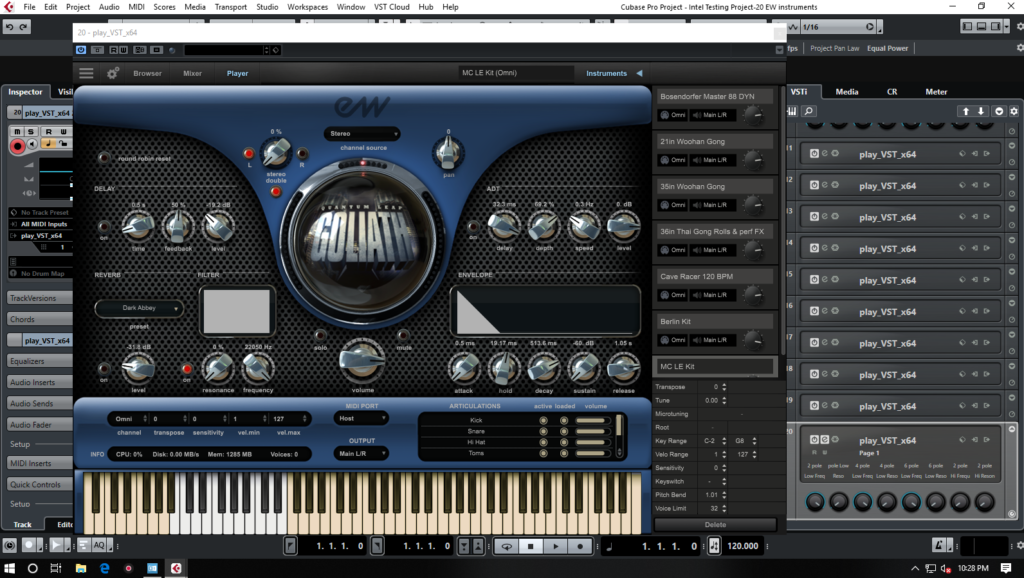 Test Results
We begin by testing the autoload times for these storage mediums with the East West 320 Instrument autoload: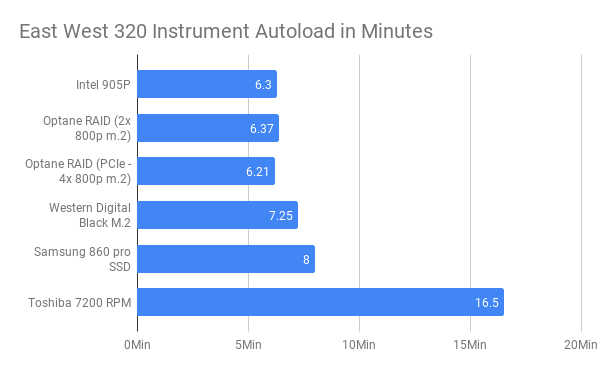 We can see that the Intel 905P SSD outperforms all the other storage mediums, with the Optane RAID OS drive performing just slightly less fast than the 905P. The Optane RAID of 4x 800p m.2 drives yields a slightly better result, with 9 seconds less load time, or 30%.
The Western Digital Black m.2 drive performs 14% slower than the Intel 905P when loading this autoload, and the Samsung 860 Pro performs 23.78% slower than the Intel 905P.
The mechanical Toshiba drive performs 89.47% slower than the Intel 905P, showing us that a massive amount of time is saved by loading one's autoload from an SSD over a mechanical drive.
This is easily the standout test in this study; the massive time difference between drives and their load times shows the amount of time saved when loading these sessions from a faster and more efficient drive.
East West Single Patch Load Times
Two East West PLAY patches were used to test the single patch load times of loading one patch from inside the software (a common practice which artists use). These patches are as follows:
EW Bosendorfer Piano, 481MB

EW Strings Gold patch, 1155MB
Testing for patch load times, we see that the Intel 905P SSD outperforms all  other drives, in some cases by up to 5 seconds less load time.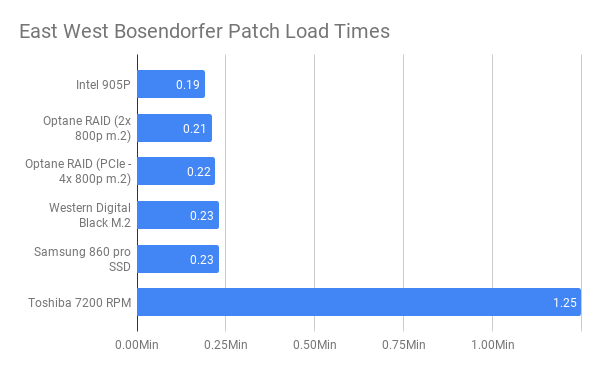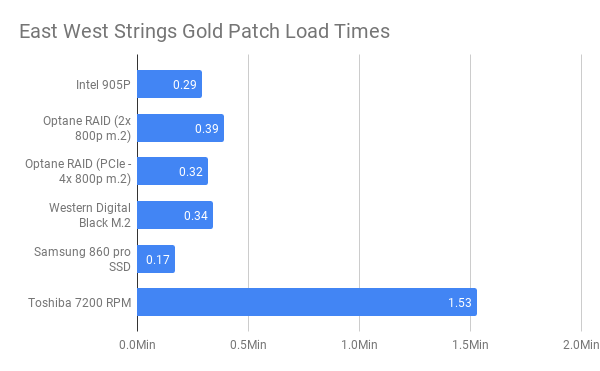 HALion Autoload Times
When loading the HALion 320 instrument autoload, we see that the 905P and the Optane RAID are equally matched. The WD m.2 and Toshiba drives are relatively close, and the Samsung 860 pro comes in last when loading this autoload.
Native Instruments Kontakt Autoload Times
When loading 384 Kontakt instruments in an autoload, the Intel 905P outperforms all other drives: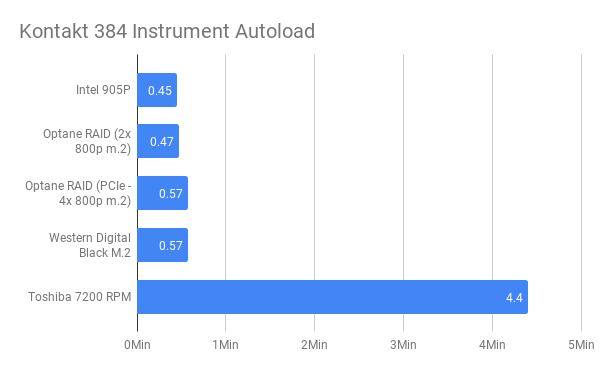 With a 23.53% difference between the Intel 905P and the WD m.2, and a 162% difference between the Intel 905P and the Toshiba Mechanical HDD.
Note that the Samsung 860 Pro was not available for this test.
Native Instruments Kontakt Single Patch Load Times – Akkord Guitar (Full) Patch
The Patch used for this test load is from the NI Kontakt Factory library, and is called the Akkord Guitar (All Chords) Patch. It is .93GB in size.
We see that the 905P and the Optane RAID are equally matched in load times for a single Kontakt Patch, the Akkord Guitar Full patch, which is about 1GB in size:
The WD drive takes roughly 3 seconds to load this patch, while the mechanical drive takes almost 15 seconds to load this patch. This is a 40% difference between the Intel offerings over the WD offering, and a 150% difference between the Intel offering and the Mechanical Toshiba drive.  
Note that the Samsung 860 Pro was not available for this test.
The Conclusion
Using these simple tests, we have been able to see, definitively, that the Intel Optane 905P NVMe SSD outperforms other NVMe Storage options, and greatly outperforms mechanical storage options. The amount of time gained by upgrading to a faster SSD such as the Intel 905P varies from 20% to almost 90% less time spend loading samples.
We feel confident that these tests show the benefits of upgrading a Digital Audio Workstation's storage mediums for those musicians and composers in need of the most performance possible.
If you found this White Paper useful, please consider checking out our full line of pro audio PCs, including the brand new Rok Box MC X Optane edition pro audio PC! 
Contact us any time to get started on your dream pro audio PC: 615-933-6775, dial 2, then 1.
Get New Posts Delivered Right to Your Inbox